Gabriel Hardman Talks Legacy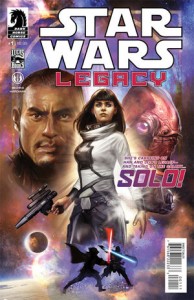 In conjunction with the release of his creator-owned project Kinski, Gabriel Hardman talked with IGN in an interview posted today. He answered quite a few questions about Dark Horse's Star Wars: Legacy and its lead character Ania Solo.
IGN: Star Wars has a history of strong, female characters, especially in the Expanded Universe, but not necessarily in the lead role of any given project. Did you see this as a chance to change that?
Hardman: Having a female lead was very appealing to us. That was the one element that was pitched to us by Randy at the beginning. It's one of things that lets us tell stories that are both fresh and familiar in the Star Wars universe.
You can check out the rest of the article here.