Happy New Year!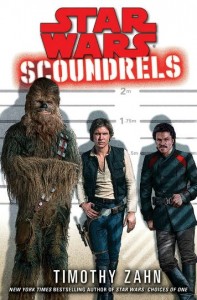 Lex again, here to kick off 2013 for the blog. Today is January 1st, and it's also the release date for Timothy Zahn's heist caper novel Scoundrels. Be sure not to miss Kay's review, which also goes up today.
---
The Clone Wars and more – Season Five resumes with the last two episodes of the D-Squad arc, followed by the long-anticipated return to the Darth Maul storyline – and Megan's reviews will be back, too. Also look for the conclusion of the Fel Roundtable from Mary, Kay, and Tricia.
---
Interviews – This month brings the second half of Mary's interview from Celebration VI with Troy Denning. Priya also shares an interview with Leigh Butler of TOR.com, who wrote a lengthy recap and commentary on Robert Jordan's Wheel of Time series leading up to the release of Brandon Sanderson's final novel in the series this month.
---
Episode VII and beyond – More news is expected soon about Episode VII. We're certainly ready to share our analysis and comments as word of characters, era, and other aspects of the story begin to unfold.
---
Here are a few of the other things we're looking forward to in January:
New Star Wars Books
New Star Wars Comics
Star Wars #1 – January 9th
Agent of the Empire: Hard Targets #4 – January 30th
New Movies
The Impossible – January 4th
Zero Dark Thirty – January 11th
Hansel & Gretel: Witch Hunters – January 25th
New and Returning Television Series
1600 Penn (series premiere) – Thursday, January 10th at 9:30 p.m. on NBC
Being Human (Season 3 premiere) – Monday, January 14th at 9:00 p.m. on Syfy
Suits – Thursday, January 17th at 10:00 p.m. on USA
Fringe (series finale) – Friday, January 18th at 8:00 p.m. on Fox
White Collar – Tuesday, January 22nd at 10:00 p.m. on USA
Dallas (Season 2 premiere) – Monday, January 28th at 9:00 p.m. on TNT
New Releases on DVD
Being Human: The Complete Second Season – January 1st
Smash: Season One – January 8th
Hotel Transylvania – January 29th
Latest posts by Administrator
(see all)