Linda Looks Into Her Cauldron
When I first heard Disney bought Lucasfilm, like everyone else on Twitter, I too was surprised. The more I thought about it, though, the more it made sense. Kathleen Kennedy recently moved to Lucasfilm. George Lucas and Disney have had a long, successful collaboration beyond merchandising, Star Tours, the Jedi Training Academy, and Star Wars Weekends. George Lucas even directed Michael Jackson in Disney's "Captain EO".
At GeekGirlCon in Seattle, I was on the panel "From Jedi Princess to Sith Witch – An Exploration of Female Characters in Star Wars" with Ashley Eckstein, Tricia Barr, Mary Sheridan, and Joao Stinson. We discussed the nature of good and evil and strong, as portrayed by a myriad of Star Wars movie, Clone Wars, and Expanded Universe characters. Princesses and Witches – the classic Disney fairy tale archetypes are already thriving in the Star Wars Universe!
From the panel wrap-up:

While A New Hope had a comic book style story to it, when Irvin Kershner came on board to direct The Empire Strikes Back he relied heavily on the storytelling elements of the classic fairy tale. The Original Trilogy built the backbone of Star Wars and definitely helped introduce a new type of female character to the world. Female characters of Star Wars is a broad topic, so in framing the panel I used the fairy tale elements like the Jedi princess and Sith witch to focus the discussion. These types of characters exist in the movies, videogames, The Clone Wars television show, and the books and comics.
In the past few years, Disney has done a fantastic job portraying strong female characters. The female characters in Pirates of the Caribbean, like Elizabeth Swann, Anjelica, and the Sea Witch wield weapons as well as the male pirates. In Herbie Fully Loaded, Maggie Peyton is as comfortable skateboarding as she is being a mechanic and racecar driver.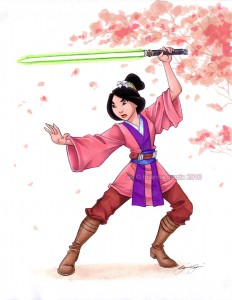 In 2010's Alice In Wonderland, Alice must conquer her fears to become the hero to carry the Vorpal Sword. Merida and Queen Elinor in Brave together conquer a mother's fear. Disney has also made a greater effort to become racially diverse, bringing in characters from around the world, like Mulan and Jasmine. Like Leia Organa, these are all strong female characters. And more diversity in the EU, beyond aliens, is always welcome.
To me, it's less important what will happen. If there will be a reboot, I hope it will be as good as Star Trek's, which far exceeded my expectations. Why wouldn't it? If we skip ahead (or behind) to an unexplored era, that's great, too! What is important is that there will be more movies, more stories, and a great legacy will continue, and with modern sensibilities.
When I look in my cauldron, this is what I see: the partnership will only be good for fangirls everywhere. This is an acquisition that is destined to have a happily ever after!