Fangirls Around the Web: August 5, 2012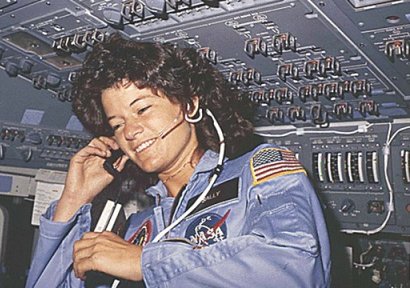 First, catching up on real life heroines from the news:
On July 23, I was saddened to hear of Sally Ride's death from pancreatic cancer. She was an inspiration and a role model for so many women, and those in my generation particularly. My college internship at the Pentagon working on the space shuttle program remains a defining experience for me to this day, and I hope that today's young women soon have another space program role model like Sally Ride to inspire them, too.
Out of the tragic movie theater shooting in Aurora, Colorado, on July 20 came this incredible story of the power of female friendship and the selfless heroism of risking your life to save another.
And of course fangirls are all over pop culture these days:
The title of this excellent Ms. Magazine blog article pretty much says it all: Women Attend Comic-Con But Don't Run the Show.
After a previous controversial post on the subject of "booth babes" at conventions, the CNN Geek Out blog posted a great rejoinder by Genevieve Dempre, titled In Defense of Lady Geeks.
Maggie Furlong at The Huffington Post interviewed Anna Torv (Olivia) and Joshua Jackson (Peter) about the upcoming fifth and final season of Fringe.
Geek My Life conducted a great two-part interview with Consetta Parker about founding and running her publicity firm, her professional and personal geek experiences, and much more. Be sure to read both part one and part two.
Looking ahead to the imminent convention, GeekGirlCon posted two more previews: one of Maya Bisineer, "one busy and fabulous mom, geek, entrepreneur, and writer," and the other with Anita Sarkeesian, whose web commentaries and Kickstarter Project have provoked an appalling and disturbing forms of backlash.
Finally, a few other links that caught my eye: