Fanfilm Fun: Hughes the Force
As much as his legacy will always be defined by creating Star Wars, George Lucas has long said that he hopes his enduring impact on the film industry will be inspiring future generations of filmmakers to follow their passions the way he did. His participation in the official Star Wars fan film contests is just one of the most visible ways he encourages younger filmmakers to learn the craft. And the list of directors, screenwriters, actors, visual effects artists and others who name Lucas among their biggest inspirations is too long to even think about writing down.
One of them is filmmaker J.C. Reifenberg, a 2003 graduate of the University of Miami Film School. Recently he released – online, for free – a half-hour fan film he directed titled Hughes the Force, a remarkable mash-up of classic John Hughes movies with a plot and characters involving Star Wars fans.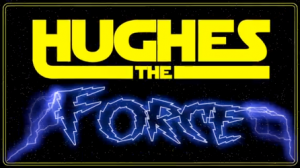 Hughes the Force is a great example of how much we can all learn from the masters of our craft. To create the movie and execute it so well, Reifenberg and his team had to work through all the elements of storytelling in the film medium: screenplays, casting, sets and costumes, music, shooting, editing, and even a few special effects. Everyone who worked on the film learned a little bit more about how to make movies – and that's exactly the kind of inspiration George Lucas hoped Star Wars would create, isn't it?
For fans in the know, Hughes the Force has dozens of Easter Eggs. The dialogue is peppered with references to other Lucasfilm projects like Indiana Jones and many of the Hughes movies. Set dressings include numerous Star Wars action figures and collectibles, and Expanded Universe novels on a bookshelf, as well. The movie's own version of a bar scene has all the recognizable fan costumes, from Imperial stormtroopers and Rebel pilots to Darth Vader himself. And, appropriately, in a movie centered on two young Star Wars fanboys, there's the requisite Slave Leia. But Hughes the Force recognizes the girls and ladies of the fandom, too. One of the female characters is a fanficcer, and I was really pleased to see her portrayed as a confident, resourceful young woman. Fanficcers often take a bad rap for being obsessive, volatile, or losers, but Hughes the Force avoids all of those negative stereotypes and makes this character just as dedicated and fierce a Star Wars fan as the guys.
The film also has a great bunch of cameos. Most visible are The Clone Wars voice actors James Arnold Taylor and Cat Taber, playing onscreen versions of Obi-Wan and Padmé. (Those two share something else, too – their publicist, Consetta Parker, is also handling the promotion for Hughes the Force.) Director Kevin Smith makes a brief appearance as himself. Voice cameos include The Clone Wars' Yoda, Tom Kane, and ForceCast host Jimmy Mac.
If you haven't watched Hughes the Force yet, you need to. It's smart, entertaining, poignant at the right moments, and laugh out loud funny.