Linda Interviews Star Wars Author Jeff Grubb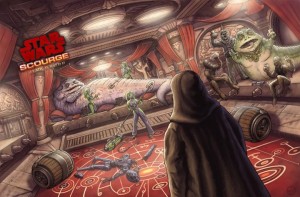 FANgirl contributor Linda had already been tasked to review the latest Star Wars book, Scourge. She told me she likes assignments, so when the opportunity came up to interview Jeff Grubb, I knew she'd be the perfect one to chat with the newest EU author. Linda devoured this book – it was only a couple days after she'd received it that she emailed to declare she was done – which is usually a good sign.
Thanks to Linda for the hustle on this project, and also to Jeff Grubb for taking the time to share his thoughts on storytelling with the fans. You can find more author insights and information about Scourge at his blog.
Over at Star Wars Books Facebook Page, fans got a peek at Scourge artwork from the upcoming Essential Reader's Companion from Pablo Hidalgo.