Are your feet happy from so much shopping online? While everyone is in search of gift items I want to remind everyone of some great deals out there for fangirls.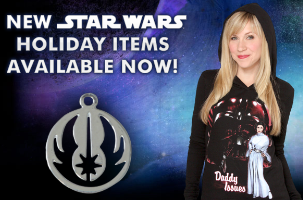 First, Her Universe released its new line for Cyber Monday. Some of the items included are a Cat Stagg's designed "Daddy Issues" hoodie featuring Leia and Darth Vader, a Jedi charm, a Warehouse 13 burnout tee, and a Battlestar Galactica sleep set and necklace.
Also over at Team Unicorn, they're having a sale through the end of today: 25% off a purchase of $20 or more if you use the code UNICORN.
The Fangirl Boutique has shirts designed with fangirls in mind. All proceeds support the maintenance of the blog and Cantina. This week all shirts will be 20% off with the code FANGIRL.
Finally, many thanks to everyone who passed along kind words and shows of support when my novel title and teaser trailer were released on Thanksgiving. Your enthusiasm helps keep my writing in hyperdrive.