Twentieth Anniversary of Heir to the Empire
Especially for those of us who watched the Original Trilogy in the theaters in their initial releases, it's hard to believe that 2011 marks the twentieth anniversary of the publication of Heir to the Empire by Timothy Zahn. The first book in what has come to be known as The Thrawn Trilogy, HTTE is generally regarded as the beginning of the modern Expanded Universe of Star Wars stories. To mark the event, Del Rey is releasing a special hardcover edition of the novel, which also will contain an all-new short story and a new set of annotations by the author. The recently released Del Rey summer 2011 catalog also gives a look at the (preliminary) cover art, emphasizing the famous Imperial logo.
The release of the cover art has sparked a lot of excitement among our friends in the Cantina, and it got me thinking about why HTTE is still viewed fondly by so many fans. Part of it, of course, is that Zahn does a great job of capturing the core natures of the films' main characters and secondary cast; the book really feels like a sequel to the movies, and the characters are very recognizable as themselves. Perhaps being set only five years after Return of the Jedi helps some in this regard, but even in his novels set further down the timeline Zahn has an ear for the characters that few other authors have achieved. Another important factor, maybe even more obvious, is the great cast of new characters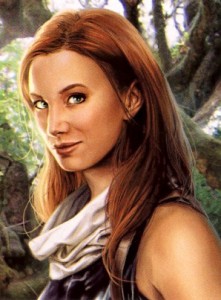 The Thrawn Trilogy introduced and that remain some of the most well-known (and well-loved) in the entire EU: Mara Jade, Thrawn, Gilad Pellaeon, Talon Karrde, Borsk Fey'lya, Winter, twins Jacen and Jaina Solo… The more recent EU novels could definitely benefit from a similar commitment to expand the Expanded Universe. Finally, there's just something familiar about that ebullient spirit of the OT films that HTTE recreates so successfully. In an EU now influenced by the Prequels and The Clone Wars, it's important to keep a touchstone with the OT spirit that made Star Wars into the worldwide phenomenon it is today.
If you've never read The Thrawn Trilogy, keep an eye out for the Heir to the Empire 20th Anniversary Edition, currently schedule for release on June 21, 2011. Give it shot – you'll be glad you did.