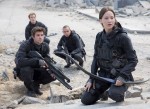 The Force Awakens won't be the only blockbuster of 2015. On June 1, The Hunger Games official Twitter account shared the official movie poster, and so the science fiction franchise began its rollout for the final movie in the lucrative series. Two days later Jennifer Lawrence's Facebook page surprised fans with an image from the movie. The first look featured above reveals Katniss and her comrades-in-arms in full battle gear, and not her Mockingkay battle armor from Mockingjay Part One.
Others members of the cast and production team popped up on media using the hashtag #unite, including Josh Hutcherson, Sam Claflin, Gwendoline Christie, Nina Jacobsen, and Francis Lawrence. Jacobson and Francis Lawrence also tweeted from the last days of shooting, including the epilogue on June 5 and the final day of filming on June 7.
Today, the first trailer dropped; it showcases Katniss in her battle armor and made up. Fans of the books will notice some tugs at the heartstrings sprinkled across the spot, so get out your hankies. Book fans might also recognize an important scene from the ending, but without context the trailer suggests… SPOILERS! We also got our first image of Christie, who is playing Captain Phasma in The Force Awakens, as District 2 victor-turned-rebel Lyme.
No doubt, this is a war movie taking a shot at the meta of pop culture. In the words of the incomparable Finnick Odair, "Welcome to the 76th Hunger Games."
Tricia Barr took her understanding of brand . . . → Read More: Mockingjay: Part Two Rollout Has Begun